We're back – and will be open from Monday May 17th.
We're looking forward to seeing you back at the Trades – we've missed you and can't wait to see you.
A lot of work has gone into refreshing the inside of the Club whilst we have been unable to open, and thanks go out to Del and all of our volunteers who have helped with this – particularly Lucy, Pal, Gordon, Drea and Sue.
We want you to enjoy yourselves, whilst at the same time feeling safe, so to help with this we want to let you know some things about the Club and what you might expect to see once we are open.
N.B. These are current plans, covering May 17th to June 20th (based on current Government guidelines) and *may* be revised in light of any additional guidance received or changes needed.
Opening Hours
• On non-socially distanced event nights we will be open from 4pm to 10pm.
• On our socially distanced event nights (May 20th, 22nd and 27th) we will be open from 7pm to 11pm.
Socially Distanced Event Nights
• On our socially distanced event nights the Club will only be open to event ticket holders and the member's bar will be closed on those evenings.
• Tickets will be checked outside the Club and only ticket holders will be admitted to the building on those nights.
• Seating for those ticketed events (which have sold out) will be allocated in advance so there is no need for those of you arriving to come early or queue to gain entry to specific seats or spots within the band room.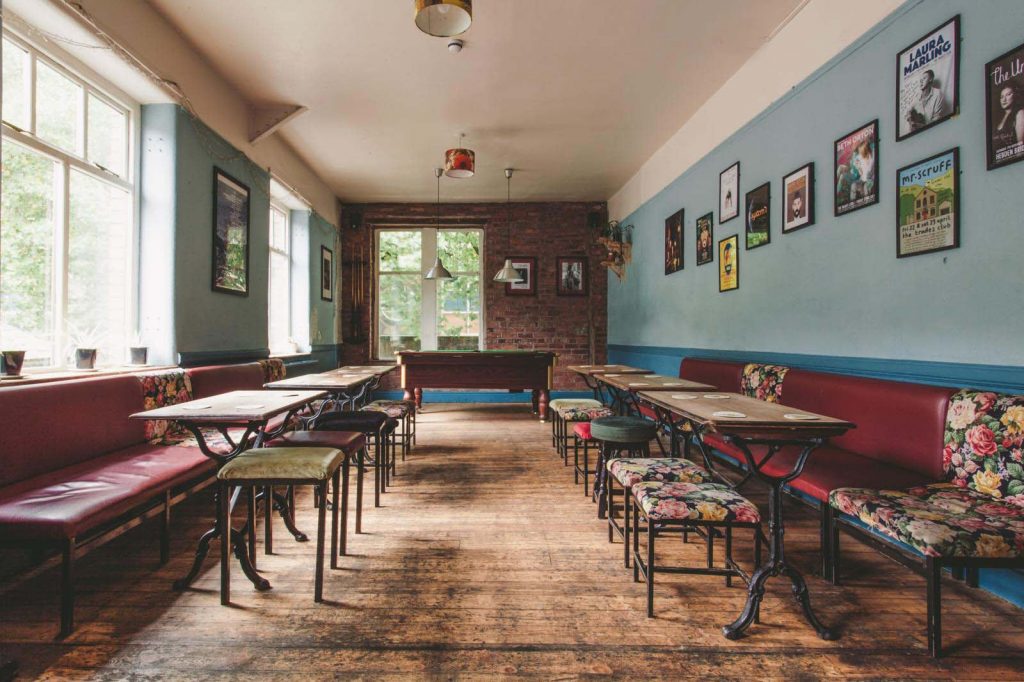 Inside The Club
• All customers will be required to wear masks to enter and exit the building and if they need to get up from their seat for any reason e.g. to visit the toilet.
• All customers will need to check-in using the NHS App or complete manual contact details for each visit to the Club.
• Distancing will be in operation within the Club, and stocks of hand sanitiser will be available.
• We are aiming to keep things as simple as possible whilst maintaining safety protocols. On non-socially distanced event nights no bookings will be required, and tables will be available on a first-come-first-served basis.
• Following Government rules on distancing, table service and a maximum of 6 in a group means that we will have a limited capacity and in the absence of table bookings this means there could be times where we may have to ask you to come back later if all tables are occupied.
• Instead of you going to the bar the bar comes to you…….. and we will be operating a table service for drinks rather than an App system and there will be a printed list of drinks/snacks available.
• Card payment is preferred, but we will be accepting cash.
• Food will be served from the 17th at least 5 days a week Monday to Friday (with the additional possibility of weekends – currently TBC) on non-event nights only. A takeaway service will be available and takeaway food orders will need to be collected from outside the Club.
• The Kitchen will be working independently to provide table menus and take orders from tables, and will use their own card machine.
• Last orders will be half an hour before closing time.
• We will be entering and exiting the building via the normal way in and out (front door) rather than having separate entry and exit points.
• Please be mindful of the narrow corridor space, do not loiter unnecessarily and please be aware of the need to provide social distancing within the building.
• Toilets will operate on a 'one-in-one-out' system. There will be a sign outside the toilet door that must be turned after use.
We can't wait to welcome you back, and our staff will be following their own safety protocols and procedures to ensure that your visit is as safe and 'normal' as possible but we do ask that you please bear with us whilst we navigate through the first few weeks of opening.
We can only make this work with your help, support and co-operation.
We all want things to return to some sort of 'normality' and hope that you are with us in taking these first steps forward.
Hope to see you all soon after May 17th.
X
The Trades Club Committee