Thursday 20th April
DLM (Davis, Lindley, Mullen: Ex- Stackridge) + The Blackheart Orchestra
£12/£15 [+10% Booking fee]
Doors open 8pm
Seated show

There is life after STACKRIDGE!
Davis Lindley Mullan, otherwise known as DLM are a 3 piece acoustic trio based in the west country. Andrew Cresswell Davis has honed his superb songwriting skills over many years, and DLM are a vehicle for some of the finest songs Andy has ever written.
He is accompanied by Clare Lindley and Brian Mullan and between them they play a variety of instruments –  guitar, violin, cello and ukelele and more. With the addition of three fine voices, they create rich textures and intimate moods, which breathe life into songs of love, loss and squirrels!  One of Andy's latest songs has been featured in September's Acoustic Magazine.
In 2013 Andy teamed up with Clare Lindley and Brian Mullan to form Davis Lindley Mullan aka DLM, an acoustic trio. This led to the release in 2015 of 2 cds: Desire Lines, co-produced by long time collaborator Pete Brandt  and also Emergency Love, co-produced by Leon Hunt.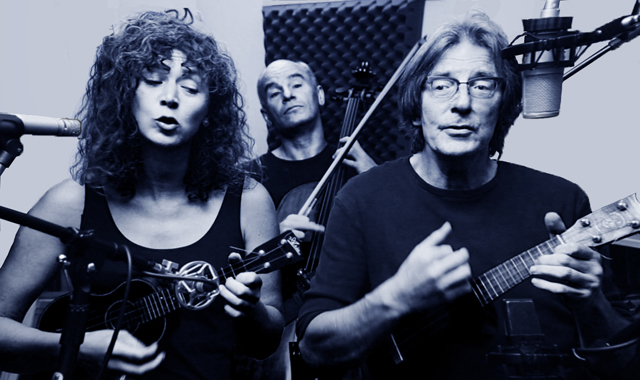 The Blackheart Orchestra are a British singer/songwriter and multi-instrumentalist duo comprising long term collaborators
Chrissy Mostyn and Richard Pilkington.
The band blend musical styles in a non-conformist way seamlessly sidestepping boundaries to create their unique,
highly individual, emotion-drenched music.
One moment their sound is minimalist and fragile weaving melodies and atmospherics with silence,
to create ethereal musical landscapes that leave audiences and critics describing their work as haunting, enchanting and captivating.
Other times the pair create a mountain-like wall of sound using ancient synthesisers, electronic drums, acoustic, electric and
bowed guitars and bass to create vast energetic symphonic climaxes.
The band have drawn comparisons to Kate Bush, Ellie Goulding, London Grammar, Pink Floyd, Steve Reich and Ludovico Einaudi.
The pair have toured extensively in the UK, Australia and New Zealand and are touring with 60s legend Melanie Safka,
before embarking on a headline tour of Europe in November.
Bookings
Bookings are closed for this event.
Share on Facebook