Sunday 25th July
THE SCOTT WALKER SONGBOOK with Andy Davies and Kirsty Newton
£8 / £10 [+10% booking fee]
Doors open 8pm
Seated – 14+ show / under 18s must be accompanied by a responsible adult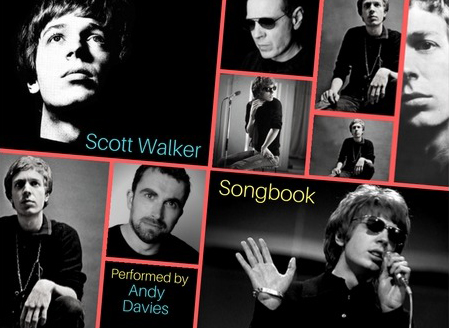 Scott Walker was one of popular music's most fascinating and elusive artists. Singer/comedian Andy Davies has been obsessed with him for years and wants to share this devotion with you. He has made it his calling to share the music of the "godlike genius" through the creation of this show.
Part stand up and part tribute to one of the greatest singers in popular music, The Scott Walker Songbook is an intimate, touching and funny evening for both Scott Walker fans and newcomers alike.
We invite you to join Andy and pianist Kirsty Newton as they shine a light on some of the wonderful songs of a rich and varied career. The Scott Walker Songbook doesn't just stick to the 60's classics and includes songs from The Walker Brothers as well as Scott's more recent, avant-garde albums. On the night you can expect to hear include Plastic Palace People, Montague Terrace (In Blue), The Electrician and Farmer in the City.
Andy Davies is a character comedian and singer whose alter ego is the showbiz legend Quint Fontana.
Kirsty Newton is a musician, songwriter, arranger and performer whose credits include Arthur Smith Sings Leonard Cohen, Jess Robinson's Mighty Voice, The Distraction Club and Kirsty's Poptastic Piano Singalong.
Please note: To access members' tickets you must first log in, using your member's username and password
---
Bookings are not currently available for this event.
---
---