Thursday 1st February
Richard Dawson + special guest Thomas Truax
SOLD OUT
Doors open 8pm
Richard Dawson's latest – Peasant, has been nominated Album of the Year by The Quietus – it's a twisted fairy-tale set in the Dark Ages, full of visceral imagery and extraordinary risk-taking noise. This is folk music that has been lovingly hung, drawn and quartered. It's funny, moving and yes, it is strong meat. You have to get yourself along to hear this gig. Once you have heard Richard Dawson you will never forget him.
Dawson has described Peasant as 'a panorama of a society which is at odds with itself and has great sickness in it, and perhaps doesn't take responsibility – blame is going in all the wrong directions.' The community portrayed on the album is certainly imbued with a sense of fractiousness, but it's clear that the potential for change is always there. The album's bleakest lines are always mirrored by unremittingly positive counterparts. On 'Soldier', 'I am tired, I am afraid, my heart is full of dread' alternates with 'My heart is full of hope'; on 'Ogre' the refrain of 'When the sun is dying' is offset by the lyric 'when the sun is climbing'. While we may be beggars, prostitutes or ogres, there is always the potential for change. Danny Riley – The Quietus

Merging a fevered imagination and solid songwriting with a mad scientist's brain for weird gadgets, American singer Thomas Truax is a true one-off.
UNCUT magazine says 'Truax is shaping up nicely as one of the great rock eccentrics' while Splendid magazine called him 'one of the five or ten best singer/songwriters in the world that you've never heard of…an exceptional talent.'
His evolving 'band' of self-made sound sculptures include a motorized drum machine made of bike wheels called 'Mother Superior' and a souped up Gramophone called 'The Hornicator',  but he never leaves his trusty guitar out of the equation too long.
Thomas crafts rich, poetically evocative songs about insects, trees, technology, and a lifelong obsession with things lunar, including various reasons 'Why Dogs Howl at The Moon'. His nine studio LPs include highly-rated covers album 'Songs From The Films Of David Lynch'.  Notable supporters and collaborators include Jarvis Cocker, Duke Special, Richard Hawley, The Dresden Dolls, Bob Log III and the late author Terry Pratchett.
A new single 'Save Me' featuring Gemma Ray has been garnering national airplay on BBC6 New full-length album 'All That Heaven Allows' is out 2nd February. A collaboration with members of Leeds band Post War Glamour Girls is has also just been released on Come Play With Me records.
'His gigs are extraordinary, fizzing with showmanship.' -Q
'When he performs, it is a spectacle – the originality and seeming impossibility of what he does is much of the appeal.'  -The Guardian
'Enthralling, mind-blowingly original and totally bonkers… a creative circus of the wonderfully surreal.'  – Brighton Noise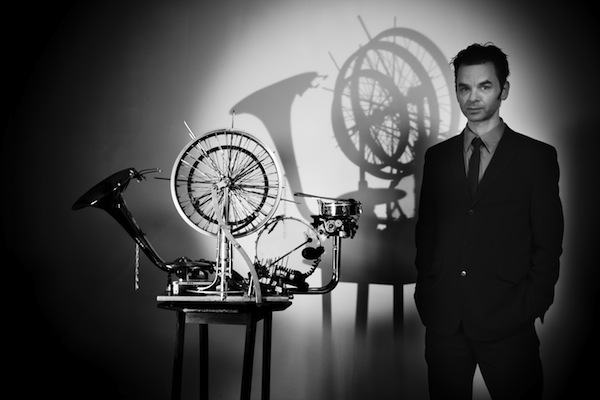 ---
This event is fully booked.
---
---