Saturday 18th September
Pom Poko + Legss
£10 / £13 [+10% booking fee]
Doors open 8pm
18+ show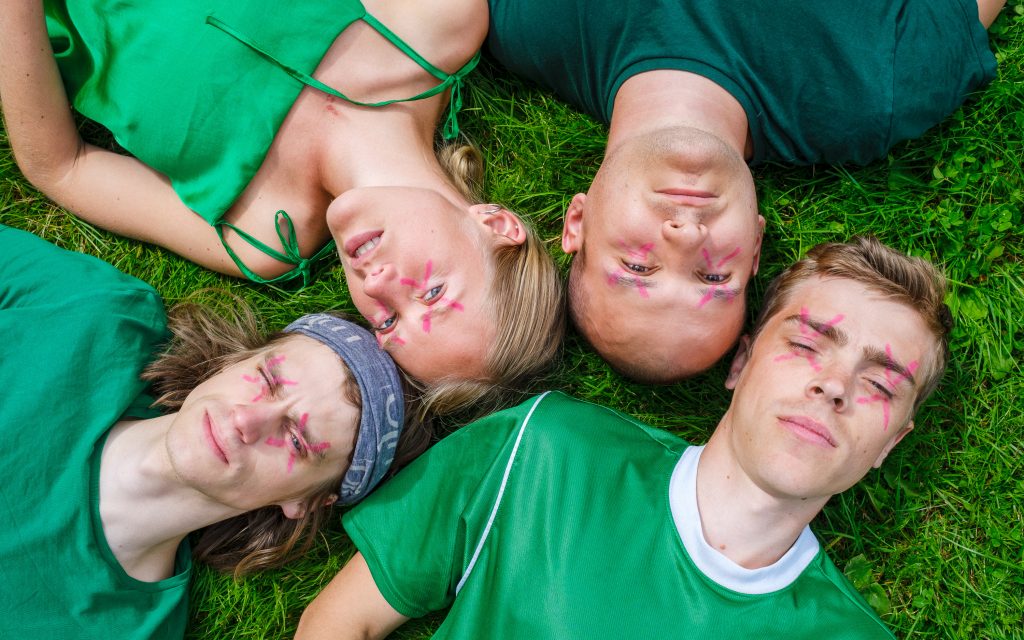 "If you have a vacancy for Favourite New Band, Pom Poko would like to apply for the role," tweeted Tim Burgess in April, as Norway's finest punk-pop anti-conformists revisited their joyous debut album, Birthday, for one of Tim's mood-lifting Twitter listening parties. Pom Poko pimp their CV on all fronts with their glorious second album, Cheater, due for release via Bella Union in January 2021. Between the quartet's sweet melodies, galvanic punky ructions and wild-at-art-rock eruptions, Cheater is the sound of a band celebrating the binding extremes that make them so uniquely qualified to thrill: and, like Tim's listening party, to fulfil any need you might have for a pick-you-up.
Taking their name and spirit from Japanese animation visionaries Studio Ghibli's marvellously out-there film about raccoon-dog rebels with unfeasibly large testicles, Pom Poko showcased that convulsive individuality to exuberant effect on 2019's Birthday. Along the way, they drew praise from NME, Interview Magazine, DIY, PopMatters, The Line Of Best Fit, The Independent and BBC Radio 6, where
Miranda Sawyer was moved to note that Birthday's "Crazy Energy Night" seems to contain about 20 songs in one. Meanwhile, a huge touring schedule included countless sold-out headline shows and a rapturously received UK jaunt with Ezra Furman.
Written in the same run that produced interim releases "Leg Day" (with its playful dance-based video) and "Praise", and recorded/produced in cooperation with
Marcus Forsgren (Jaga Jazzist, Broen, Arc Iris), Cheater does its predecessor proud on every front. Bursting with colour and wonky life from its cover art (by close collaborator Erlend Peder Kvam) outwards, it differs from Birthday primarily in that its songs did not have a chance to be road-tested before going into the studio. But you wouldn't know it. As Ragnhild explains, "That meant we had to practice the songs in a more serious way, but it also meant the songs had more potential to change when we recorded them since we didn't have such a clear image of what each song should/could be as the last time."
In other words, consider that vacancy for free-thinking punk-pop adventurism in your life filled. Right, Tim?
Please note: To access members' tickets you must first log in, using your member's username and password
---
Bookings
---
---