Thursday 18th April
Nick Harper – 58 Fordwych Road  + Katie Spencer
£12/£14 [+10% booking fee]
Doors open 7.30pm
Seated performance
14+ show – under 18s must be accompanied by an adult
THIS SHOW IS NOW SOLD OUT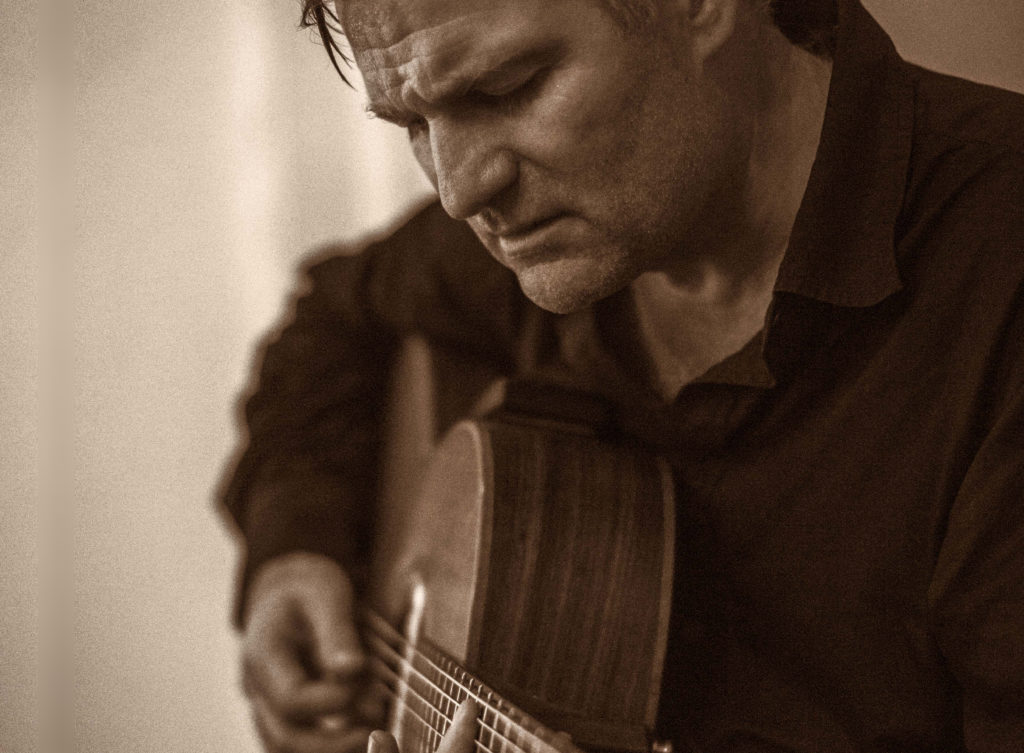 NICK HARPER is one the UK's best kept musical secret. Those who have witnessed the spellbinding, one-man show will tell you this. A childhood growing up surrounded by the musical prowess of some of the 60's most revered songwriters and musicians, not to mention being son of Roy Harper, along with 20 years of crafting songs and touring the land has spawned a truly one-off, original guitarist and songwriter who stands alone as a UK great, to be cherished and revered.
58 FORDWYCH ROAD is an all new show that centres around a livingroom in a small flat in Kilburn, London in the mid 1960s. Then the abode of up-and-coming singer-songwriter Roy Harper and his wife Mocy. The flat was an after-hours hang-out for the legends who played at Les Cousins in Soho at the height of the acoustic explosion in swingin' sixties London. People like Bert Jansch, Davy Graham, John Renbourn, Paul Simon, Marc Bolan, Sandy Denny and others dropped in, to drop out, jam and try new tunes. But, all along, there was someone else there… a toddler, part of the family, inhaling the music and absorbing the vibe; Roy's young son, Nick Harper. Nick later carved out his own career in music, but in this unique and one-off show he plays tribute to the time, the place and to the music that became the centre of everything for him and the rest of this 'family'. The show runs over two halves. The first will see Nick delve into the deluge of songs he heard direct from the greats when growing up. In the second Nick will trace the journey of how these luminary figures' music evolved and helped shape popular music beyond the sixties and revisit the eternal themes that run from then to now in songs of his own fine repertoire.
We are delighted to present such an exciting, musically varied, historical and personal show to you. 58 FORDWYCH ROAD will be teaming with anecdotes and musings over the songs, and artists who wrote them, that Nick heard, and learned, whilst growing up. Nick's a born natural – audiences are set to be stunned with the musical power and prowess of Nick's performance, that's been finely tuned over two decades of touring.
'Harper has so much musicianship in him it just leaks out all over the place.' The Times
'Dylan for the iPod generation…Betjemen with a guitar.' Guitarist
'Acoustic Hendrix!' Guitar Magazine
Katie Spencer

Winner 2018:Best Emerging New Talent: Yorkshire Grassroots Awards
"Katie's guitar playing has echoes of my dear friend the late great Bert Jansch.  Like a musical weaver she threads her poetic lyrics through the guitar's strings and produces little tapestries of song." – Ralph McTell
"Haunting, escapist and moving…" – Three Chords and The Truth
Every once in a while we are blessed with a singer who is quite simply born to write and perform exquisite songs with confident, gentle assurance.  Based in the UK, Katie Spencer is a progressive-folk singer songwriter and guitarist inspired by the people and her surroundings in the Yorkshire countryside.
"Drawing on influences such as John Martyn, Roy Harper and Laura Marling, Spencer creates modern folk music which owes as much to East Riding as it does to the American greats, with her striking vocals and adept songwriting backed by evocative and complex acoustic guitar." Wake The Deaf
Please note: To access members' tickets you must first log in, using your member's username and password
---
Bookings
This event is fully booked.
---
---
Share on Facebook