Wednesday 20th December
Echo Town with support from Mobius Loop and River Roots
Tickets £8/£7
Doors open 8pm – bands from 8.30pm, don't be late 🙂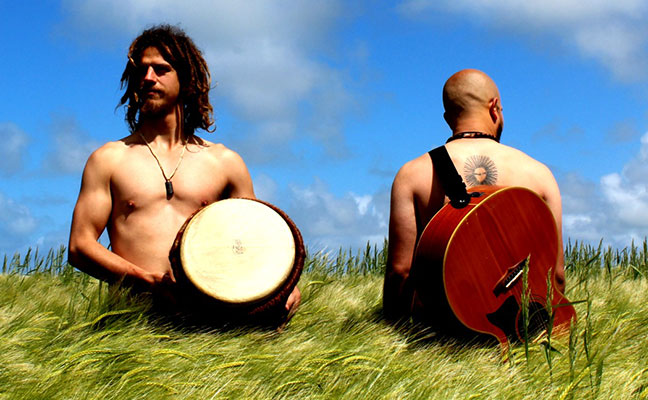 Echotown
Echo Town make their Hebden Bridge Trades Club debut on Winter Solstice eve, with support from Mobius Loop and River Roots. Ric and Rob Harrison of Echo Town are well known on the festival circuit for their upbeat personalities and energetic stage presence, with a sound far too big for only two musicians. This high on life brother duo juggle multi-instruments in what could only be described as a Roots/Rock mash up with a tribal twist.
The crowd will hear the mind–altering tones of the didgeridoo and quality guitar sliding from Ric, combined with the heart reverberating drums and African style percussion from Rob. All accompanied by powerful lyrics and combatant instrument playing.
"… They produced an avalanche of highly danceable grooves that put a big hippie smile on all our faces. Lust for life electricity in the air all night long." (Gig review By www.50thirdand3rd.com)
"… As if John Butler's lapsteel, Xavier Rudd's social commentary and Jack Johnson's catchy pop ideals have all been fused by the hands of two British songwriters." Richard Cadence (egigs.co.uk)
Echo Town OFFICIAL MUSIC VIDEO
https://www.youtube.com/watch?v=HWSL_0ZmKu8
Mobius Loop create gloriously eccentric gypsy folk stories, fusing world music and conscious rap with eruptions of free-form dance charged with an intimately powerful and intense energetic live performance. Mobius Loop are on a mission to raise positive vibrations, projecting an organic co-operative voice for humanist spirituality, vegan philosophy, grassroots philanthropy, true democracy and alchemical magic, in the name of Hemp Redemption and the infinite unknown.
http://www.mobiusloop.co.uk/
River Roots are a vibrant mixture of roots and alternative acoustic, with hints of folk and reggae beats, bringing diverse sounds and a playful uplifting vibe. Conscious, mind opening music delivered from the heart.
Fusion of their soulful harmonies and positive energy illuminates the stage. They share their musical journey together while bringing people together. The music is majorly influenced by a nomadic lifestyle and connecting with nature, with a positive uplifting message.
This Nomadic Duo tour internationally, performing at many UK festivals, including: Boomtown Fair, Beat-Herder, The Green Gathering, Boardmasters and Buddhafield.
River Roots catapulted into the New Zealand scene earlier this year with a tour across the North and South Island, performing at Aum's Seuss Festival, Wanderlust Festival, Luminate Festival, Resonance Karamea Festival and the International Yoga Festival.
BBCIntroducing – David White
"What voices River Roots have! 'Destruction's simple and frankly stunning. Nice job"
http://www.riverrootsband.com/
https://www.youtube.com/watch?v=aLFCotjG8hM
---
Bookings are not currently available for this event.
---
---