Mexican Street Food pop up Saturday 16th September 1pm-7pm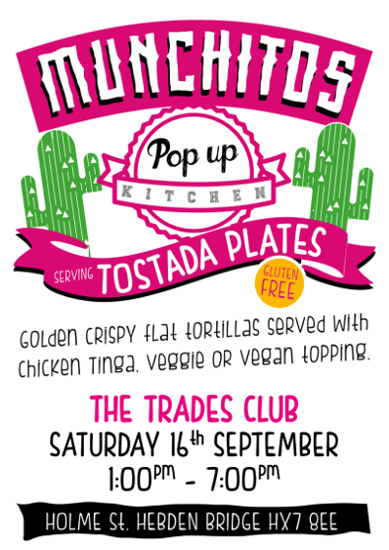 Munchitos pop up kitchen serving gluten free Mexican tostada plates. Golden crispy flat tortillas served with chicken tinga, or  veggie or vegan topping, & a Mexican slaw side. At the Trades Club this Saturday 16th Sept from 1pm-7pm.

There is a varied roster of affordable (approx £5), delicious food every weekday from 4pm with the Trades Kitchen & Street Food Collective(s), including Peas & Love Thali, Japanese ramen and gyoza, The Dosa bhajis, curries and dhal, Rostini's Indonesian Food and more. Click on the links below for menus to whet your appetite. If food be the music of love…
Rostini will be expanding her Indonesian & Thai cuisine to cover Mon & Thurs for the next two weeks. Peas & Love Mon Thali & Thurs Japanese ramen will return in October.
Mondays – 4pm – 8pm: Peas and Love – Thali
Tuesdays – 4pm – 8pm: Rostini's Indonesian Kitchen
Wednesdays – 4pm – 8pm: Rostini's Indonesian Kitchen
Thursdays – 4pm – 8pm: Peas and Love – Japanese Ramen and Gyoza
Fridays – 4pm – 8pm: The Dosa – Dosas, Curries, bhajis and dahls
Rostini's Indonesian Kitchen is now open on Sunday's 12-7pm.
& occasionally popping up & taking over, we're looking forward to:
Streatza – wood-fired Neapolitan Pizza
Yakamama – Latin American Inspired
The Real Junk Food Project Cafe are no longer popping up at club after struggling to find enough Saturday volunteers. They are still running Tuesday's & Thursday's at Salem Mill. Check the link for more info.