Sunday 26th July
Was Ist Das? Presents
Trembling Bells + special guests Chris Wade (Dodson & Fogg)
£5/£7 (10% booking fee)
Doors open 8pm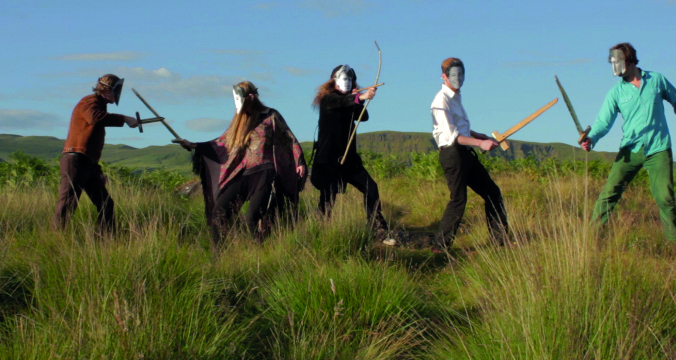 Sophocles. Dennis Potter. The painter El Greco. Not the usual collection of influences that go towards shaping an album, but then Trembling Bells are not your usual sort of band. Oh, there's a break-up with a girl in there somewhere, too, of course. That's more the typical sort of thing, isn't it? But The Sovereign Self is a remarkable work from remarkable musicians – one of Britain's most distinctive and exciting groups.
"It's darker than our other records" says Alex Neilson, the five-piece band's drummer and principal songwriter. "Suffering played quite a big part in its conception. I came out of a relationship and was consoling myself creatively and emotionally by reading a lot of Greek tragedy. The language is incredible. I immersed myself in that and then cherry-picked lines from it, distorting and personalising them."
The Sovereign Self – named after a line from Dennis Potter, the late television auteur – is the fifth album by Trembling Bells, their first since 2012's The Marble Downs, a collaboration with Will Oldham. It is a driving, dramatic and at times hallucinatory work, filled with a great sense of tension and release; a witches' brew, a psychedelic stew mixing up the range of the band's musical interests – everything from ramshackled ballads to ancient May Day chants, swaggering acid rock to swirling prog epics.
"Some songs are a little challenging" says lead vocalist Lavinia Blackwall, "Bringing Alasdair C Mitchell into the band means we have the interplay of two guitar parts. Musically, this album has been a lot more collaborative and democratic and as a result a lot of our other influences have come through – psychedelia, early-70s prog and rock. It's heavier and darker. I find it physically and emotionally draining to sing these songs, because they are quite intense you have to put so much into them."
As always, there is a strong sense of place in songs: Glasgow, Padstow; East London, the Great Western Road; the A61 and A82 – you could plot the songs of Trembling Bells on a chart; you could drive around in them. They are a band poised between mappa mundi and SatNav.
"I have an irresistibly romantic attraction to places. I want to glorify them and give an impression of the feeling that they evoke in me," says Neilson. "I'm interested in the way that Dylan Thomas and Walt Whitman engaged with their native land. They sang of the soil itself. I was always interested in the way that blues and country did the same for places in America, but it didn't seem like there was an equivalent in Britain. Carbeth, Yorkshire, Sussex and Cornwall have a strong allure for me, so this is a way to eulogise and elevate these places that have a very personal significance for me into the realm of myth and mystery."
Trembling Bells formed in 2008, born from Glasgow's close-knit scene, united by shared tastes, passions and imagination. "We all like music on a forensic level," says Neilson. "We're all obsessive, pedantic, maladjusted, unemployable nerds."
It is tempting to regard them as a band out of time, five tempunauts who would rather be hanging out in the studio of William Morris, or Weimar-era Berlin, or quaffing cider in Merrie England than in the sometimes tawdry, often dull world of social networking and digital downloads. They seem profoundly nostalgic, yearning for the past like a child for its mother. Is that fair comment? "Possibly," says Neilson. "I'm a little bit cautious about that because we get called folk-rock quite a lot. But no, I don't really relate to much of the modern world. I feel that there's a lot to learn from 30,000 years of civilisation."
That range of cultural and counter-cultural interest is apparent from the front cover of The Sovereign Self – a series of twenty portraits painted by Lavinia Blackwall: an eclectic gallery of genius from Emily Dickinson to Aeschylus; Lou Reed to Ovid.
Another key influence, psych-folk pioneers the Incredible String Band, has loomed large in the lives of Trembling Bells in recent years. They have toured with ISB co-founder Mike Heron, performing tracks from his songbook.
"It was a profound pleasure to get inside that music," says Neilson. "Everyone in the Trembling Bells grew up with the Incredible String Band. I remember listening to them on the school bus and being petrified that anyone would hear what was in my ears. It was so audaciously imaginative and disarmingly whimsical that it was almost embarrassing to listen to when you were fifteen. But it really came to shape the music I aspired to create. When we do the concerts, you can tell that it means a lot to the people in the audience and it means a lot to me to play it. It's music that is very cherishable because it's so idiosyncratic."
Having released five cracking LPs in six years, in addition to a number of side-projects, Trembling Bells show no signs of slowing down. Already, work is being done on solo records from three members, and there are plans for an album of reworked traditional folk songs with vocals from comedian Stewart Lee. This is quite simply a group of people with music pouring out of them.
"We're very ambitious creatively," says Neilson. "We're always pushing ourselves deeper and deeper into the mystery."
---
Bookings
Bookings are not currently available for this event.
---
---
Share on Facebook