Saturday 4th March
LUST FOR LIFE
£23 / £25 [+10% booking fee]
Doors open 8pm
18+ show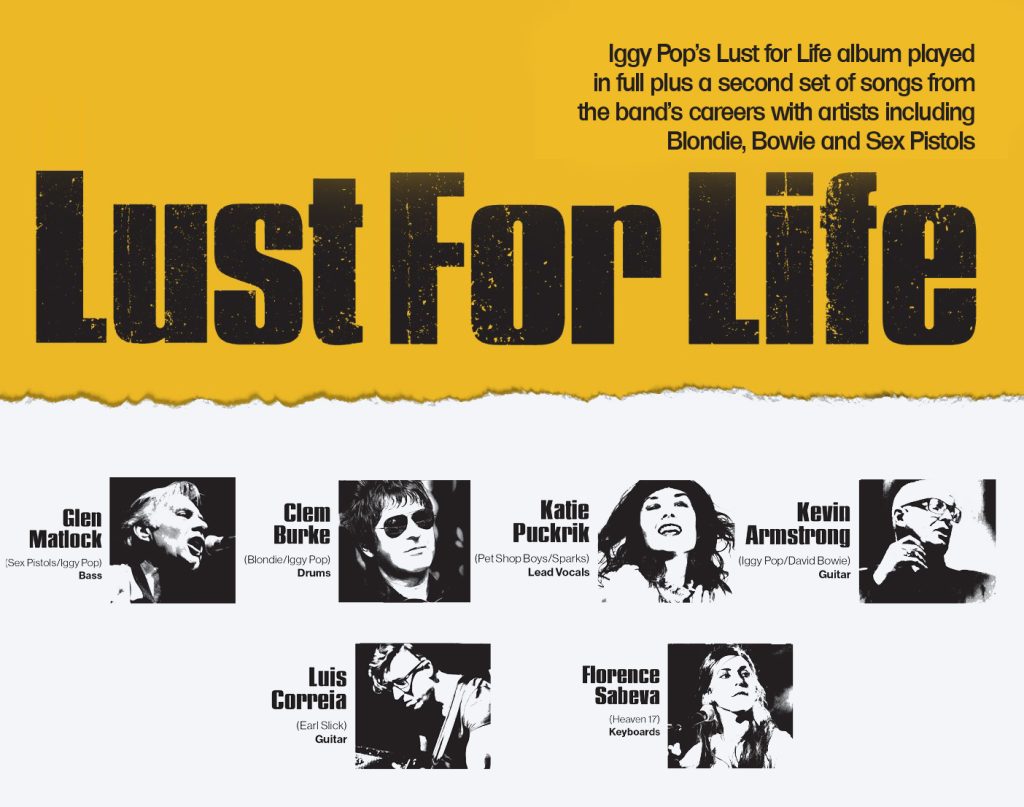 Glen Matlock, Clem Burke and Katie Puckrik celebrate 45 years of the Lust For Life album with UK tour
An all-star line-up will celebrate the forty-fifth anniversary of the release of Iggy Pop's classic Lust For Life album with a tour of the UK plus a special one-off date in Dublin.
Legendary Blondie drummer, Clem Burke, will be joined by former Sex Pistol and punk pioneer, Glen Matlock on bass; broadcaster and Pet Shop Boys dancer, Katie Puckrik on vocals; Iggy Pop and David Bowie collaborator, Kevin Armstrong on guitar; Luis Correia, who's toured internationally with Earl Slick on second guitar together with classical pianist, composer, and touring member of Heaven 17, Florence Sabeva on keyboards.
The band will perform the Lust For Life album in full, as well as revisiting songs from across the individual band members' careers with legendary artists including Blondie, David Bowie and the Sex Pistols.
Glen Matlock steps up at the last minute to replace Tony Fox Sales.
Glen Matlock: 'It will be a bit of a challenge stepping into the top player and gentleman Tony Sales' shoes at the last minute but challenges put hairs on your chest and are not to be shirked. To be on stage with these fellow like-minded guys and gals and celebrate our collective musical ancestries should be a pleasure, so come on down and let's all hit the roof together.'
Clem Burke: 'Due to Tony's unfortunate last minute unavailability we've decided to soldier on with my mate and current Blondie bass player Glen Matlock . Everyone in the group is looking forward to a great night of Rock 'n' Roll with a few extra surprises in store.'
Three of the band members, Glen Matlock, Clem Burke and Kevin Armstrong have toured with Iggy Pop and each has made an album with him: Glen Matlock (Soldier) in 1980, Clem Burke (Zombie Birdhouse) in 1982 and Kevin Armstrong (Blah Blah Blah) in 1986.
Katie Puckrik adds: 'I'm a show pony from way back: along with my broadcast career covering pop culture, I toured the world dancing with Pet Shop Boys, I performed at Sadler's Wells with The Fall and Michael Clark Company, and I sang in Sparks' opera The Seduction of Ingmar Bergman, both on the original cast recording and onstage. I have worked with towering icons of music, but taking on the magnificent Iggy Pop's vocal duties for this Lust for Life re-make/re-model is an electrifying opportunity like no other. Not only do I get to sing anthems like 'Lust for Life' and 'The Passenger' (as well as my personal fave from the album, 'Success'), but I'm surrounded by some of Iggy, The Sex Pistols, Bowie and Blondie's key players, including Glen Matlock, Clem Burke and Kevin Armstrong. So strap on your horse tails and join me in celebrating Lust for Life.'
---
Bookings are not currently available for this event.
---
---