Sunday 6th May
Rise, Like Lions!
Songs, Stories & Satire from the Frontlines
£5/£3 [plus 10% booking fee]
Doors open 5.30pm – tickets available on the door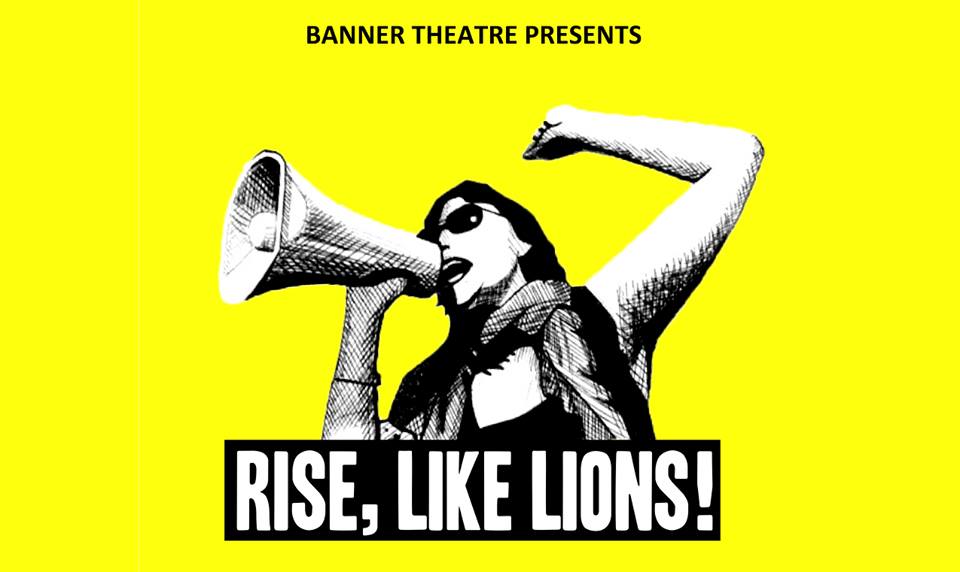 Banner Theatre presents a stirring, stomping, roaring celebration of grassroots resistance to those who plot to tear apart our welfare state, rip up our environmental protections and impose ever more draconian neoliberal misery on millions! 
In the wake of the huge success of Labour's election campaign, which focused on hope and an end to austerity, Rise, Like Lions! weaves inspirational stories of workers in struggle with music, song and video. 
The show exposes a 30-year plot to privatise the NHS and stages the fight to keep it in public hands. It dramatises the successful strikes of teaching support staff in Derby and Durham, and captures the spirit and defiance of the anti-fracking campaigners at the Preston New Road site in Lancashire. 
With its thundering mix of folk, reggae and ska, Rise, Like Lions! brings you songs, stories and video scoops from the frontline of the class war. So, switch off the fake news and tune in to the real news from Banner Theatre!
Love Music Hate Racism
From 9pm – admission free but donations welcome.
DJ Sambaman plays reggae, old skool and new, dub, ska, two tone – 'all danceable!' he promises..
A great way to end your May Day weekend Sunday.
DJ Sambaman is Dave Vincent who set up the wonderful PCS Union samba band that has now played on over 80 protests since 2011 across England.
A Calderdale May Day event organised by Calderdale Trades Council  
Bookings
Bookings are closed for this event.
Share on Facebook