Tuesday 17th December
My Darling Clementine + special guest Oliver James Lomax
£13/£15 [+10% booking fee]
Doors open 8pm – tickets available on the door
Seated 14+ show – under 18s must be accompanied by a responsible adult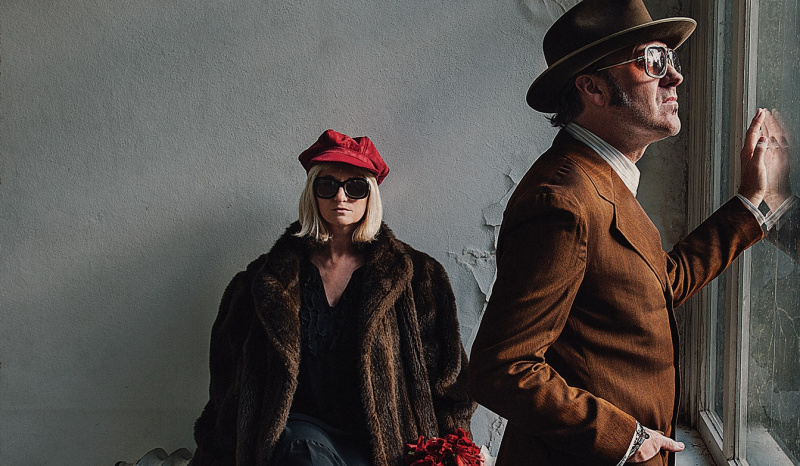 A labour of love on multiple levels, My Darling Clementine – the sobriquet of spouses Michael Weston King and Lou Dalgleish – began as a homage to classic country duets of the 60's and 70's á la George & Tammy and Johnny & June
The debut 'How Do You Plead?' was produced by Neil Brockbank (Nick Lowe) and featured some of London's finest musicians from the 70's pub rock era. Released in 2011, it was immediately acclaimed on both sides of the Atlantic. Country Music People called it; 'The greatest British country record ever made'
Such praise led to a US record deal and invitations to appear at the Americana Music Association in Nashville and SXSW in Austin in 2013
2013s follow-up, 'The Reconciliation', produced by Colin Elliot (Richard Hawley, Duane Eddy) and featuring guest appearances from Kinky Freidman and The Brodsky Quartet only enhanced the bands growing reputation and received a similar critical response. with the New York Daily News choosing it as album of the month while Popmatters put it in their Top 10 Country Albums of 2013.
Their next move was a slight departure as they the collaborated with best-selling crime writer, and avowed country music fan, Mark Billingham on the story and song project The Other Half. Billingham witting a nourish tale of murder, lust and revenge around 8 King & Dalgleish songs. The Other Half became an album, an audio book, and a stage show and featured contributions from actor David Morrisey and singer songwriter Graham Parker
After 18 months of touring The Other Half, including a run at The Edinburgh Festival,  Michael and Lou returned to the studio for album no. 4.  Re-uniting with producer Neil Brockbank, 'Still Testifying' was released in the summer 2017. Stylistically, it was a further shifting away from classic country to embrace gospel and country soul and was widely acclaimed with many writers praising the new direction;
'Where gospel, country and Southern soul happily collide. It's terrific.' UNCUT,  'this more Delaney & Bonnie than George & Tammy' Record Collector
Into 2019 and their latest recording is 'Country Darkness Vol. 1' which sees them collaborating with Steve Nieve (The Attractions / The Imposters) and reinterpreting the country and country soul songs of Elvis Costello.  It will be released in October 2019 on Fretsore Reords.
During the past 7 years, they have played over 600 shows, won numerous awards and have more than earned their own bona fides, with their wry yet heart-on-sleeve songcraft spotlighting the vagaries of romance and the human condition, and their match-made-in-heaven harmonies
'King and Dalgleish have earned their place in the role call of great country duettists' – UNCUT
'MDC mix country gloom with excellent musicianship and very fine songs.' The Guardian
'King and Dalgleish have re-invented the country duet – The mingling of these two voices is just heavenly'  Mojo
'One of the most exquisitely pained country albums of the year comes from England' New York Daily News
—————————————————–
Oliver James Lomax is a 36 year old poet from Bolton. His first collection "18 Poems" was published by Dylan's Salubrious House Swansea and illustrated by the artist Dan Llewellyn Hall.
The book had two launches one in South Wales at The Laugharne Festival and a northern launch at The Portico Library in Manchester.
He has been poet in residence at The Working Class Movement Library, and poet in residence with Dylan's Book Bus at The Laugharne Weekend, Latitude Festival, Green Man, Do Not Go Gentle and The Goodlife Experience. Oliver has also been poet in residence at The Dylan Thomas Birthplace and whilst in Swansea he also performed at the Universities literature festival supporting poet laureate Simon Armitage and Daljit Nagra.
He was commissioned to write a poem about the 53 Trees of the Western Road in Sheffield which featured on The One Show and more recently he was commissioned to write a poem for the Nationwide Christmas Advert.
He has just finished writing three new poems based on Peterloo that were performed by Maxine Peake at the Radical Readings commemorative event in Manchester and supported Billy Bragg performing his poems at Manchester Central library. Oliver also performed these poems at The Albert Hall in Manchester accompanied by Stalybridge Brass Band. His new collection is set for publication in early 2020.
---
Bookings
Bookings are not currently available for this event.
---
---
Share on Facebook