Friday 17th December
Desolate Spools with Adult Entertainment + Wet Man
+ Dimitri + DJ sets from The Lounge Society + Outernational Yorkshire + special guests
£5 [+10% booking fee]
Doors open 8pm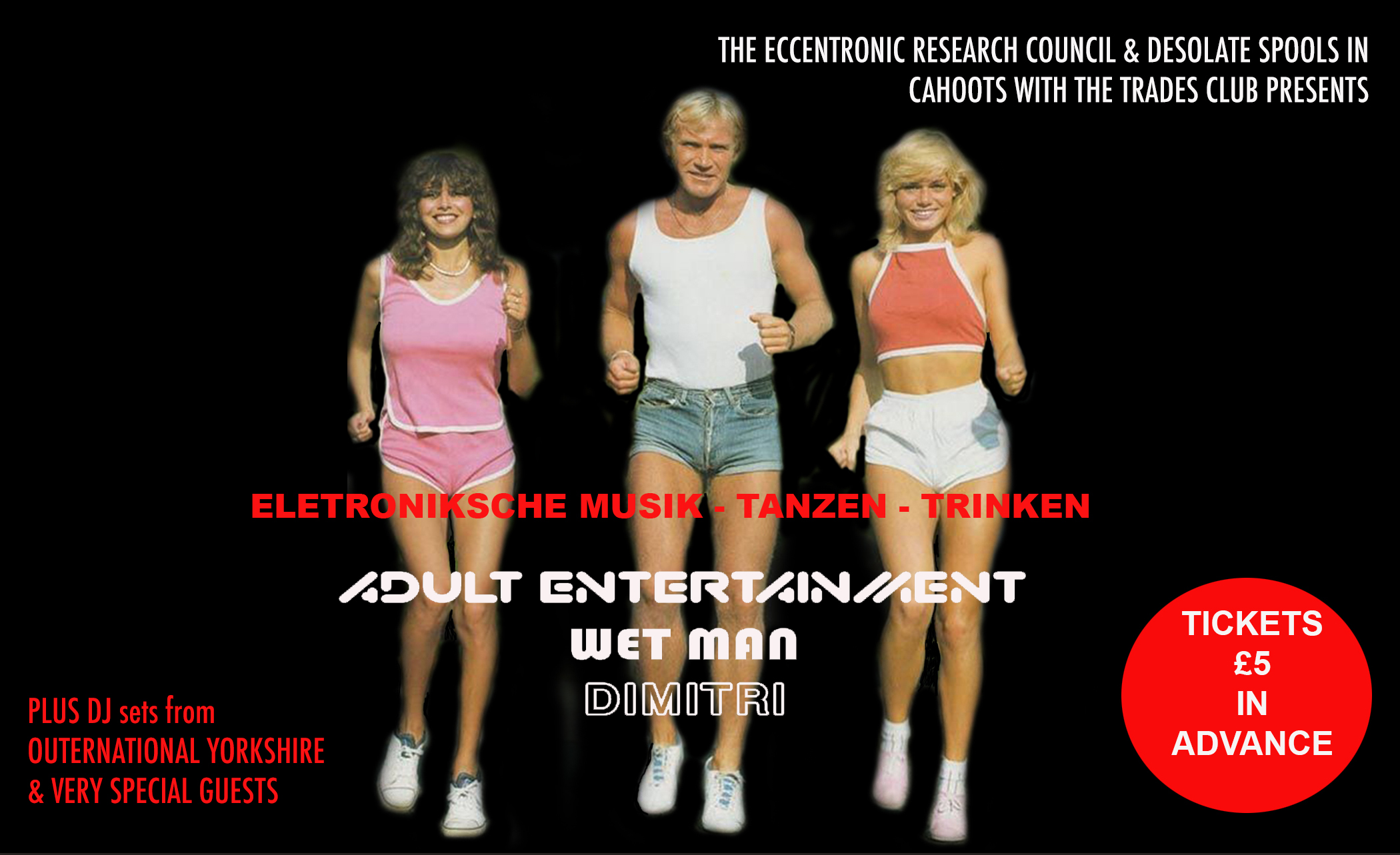 Desolate Spools – is the DIY record label of critically acclaimed pioneering electronic art collective (and friends of The Trades) the ECCENTRONIC RESEARCH COUNCIL.
Over the past few months ERC producers Dean Honer (all seeing I/Imonster)  and Adrian Flanagan (The Moonlandingz) have invited a handful of new eccentric electronic pop artists to their analog lair in Sheffield to produce up some tracks for them which will be released in to the Parish on Friday November 12th in the form of a compilation album titled 'The Eccentronic Research Council presents: Wayward Freaks from a synthetic Street' and to celebrate its release they will be hosting some Desolate Spools showcase events featuring some of these great new artists and one place they will be stopping over with their charabanc of electronic pop misfits is the TRADES CLUB.
Playing live on the night are : ADULT ENTERTAINMENT: is Salford's Queen of underground clubland, Artist and singer – Chazza Cartwright who in cahoots with the hardest working man in 'no-biz' Adrian ERC – makes cerebral twilight psychedelic basement acid music. This modern day electronic Bardot & Gainsbourg of 'weird Salford' were described by Loud & Quiet magazine as a 'woozy, pulsing, grubby coalescence of dance-floor ready electronica that sounds like a hallucinatory piecing together of being in a windowless basement club for three days straight.'
WET MAN : Jack Clayton is Wet Man, a Sheffield born artist with Sheffield music history running like Henderson's relish through his blood (his dad played in post punk band Artery (A big influence on a young Jarvis Cocker) and who also had a short stint playing in the mighty Cabaret Voltaire). Wet Man merges jerky nervous energy with tales of science fiction and the stupidity of mankind via the gnarly sonics of Nag Nag Nag era Cabaret Voltaire, Suicide and the Legendary lost, Fat Truckers.
DIMITRI : Is an enigma, a crooner, a lover, a philosopher and a European man of no confirmed location. The original 'night time driver' will take you on a sonic journey of great electronic romance, then beat you at Chess before trying to sell you a nightclub in the township of Rotherham.
plus SPECIAL GUEST DJs THE LOUNGE SOCIETY
READ MORE ABOUT THE ARTISTS /LABEL HERE in a feature piece in the QUIETUS.
thequietus.com/articles/30775-eccentronic-research-council-new-label-desolate-spools
---
Bookings
---
---