Sunday 22nd December
Christmas Special – Johnny & Poppy Turner Present:
Deptford Northern Soul Club
£6 [+ 10% booking fee]
Members £8 / guests £10 OTD
Doors open 9pm – tickets available on the door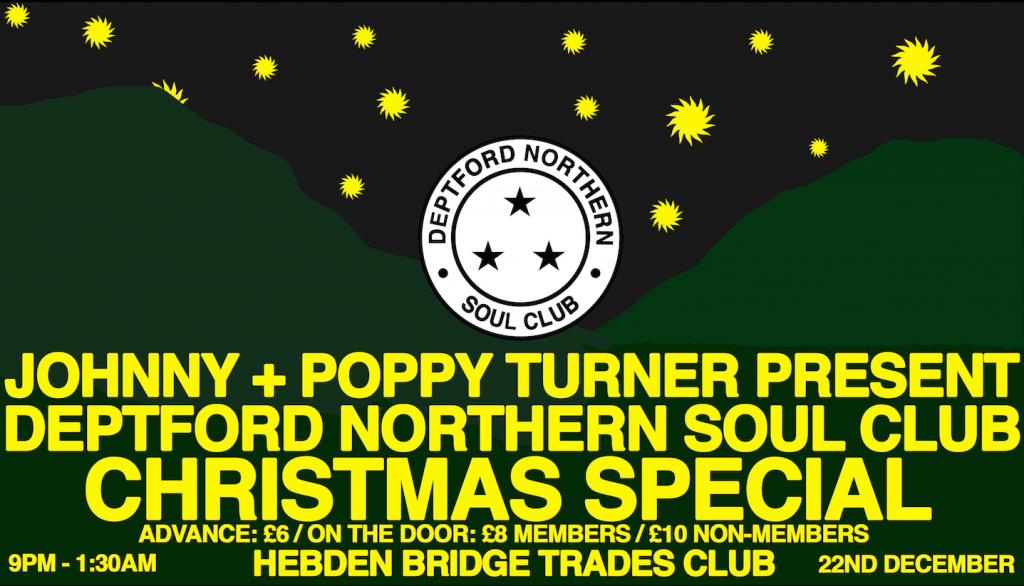 If you're home for the holidays or you just need to get out of the house for a proper dance, come on down and get down to some Northern stompers, Motown classics, Philly grooves and all the tunes to make you move – brought to you by father and daughter duo Poppy and Johnny Turner (Heart & Soul).
Johnny Turner (DJ Johnnyboy), from sell-out nights like LaPuta and People Get Ready, is dusting off his 45s once again and getting ready to spin some tunes that'll get you moving.
Poppy Turner, brought up on the sound of soul and disco, is all grown up and taking it out on the floor. She's played in South London with Deptford Northern Soul Club, taken the Manchester night life by storm, and now she's bringing it back home to the Calder Valley.
And this time, for this Christmas special, we've got special guests Deptford Northern Soul Club joining us on the decks!
Offering gimmick free parties up and down the UK; Deptford Northern Soul Club is a new breed soul night for the next generation of party goers. With the aim to bring Northern Soul back into the conversation of modern dance music; expect fast hard hitting soul stompers, heavy perspiration, dance moves you've never seen before and a hangover you'll want to forget. This is the new face of soul brought to you by the next generation, digging through the internet and their parents record collections to bring you a dance music orientated display of the finest trumpets, the heaviest drum breaks and the most deeply heart-wrenching vocals; that you've probably heard before.
---
Bookings
Bookings are not currently available for this event.
---
---
Share on Facebook