Tuesday 31st October
Kathryn Tickell + David Almond with Amy Thatcher
£10/£12 [+10% booking fee]
Doors open 8pm – limited tickets available on the door
Seated show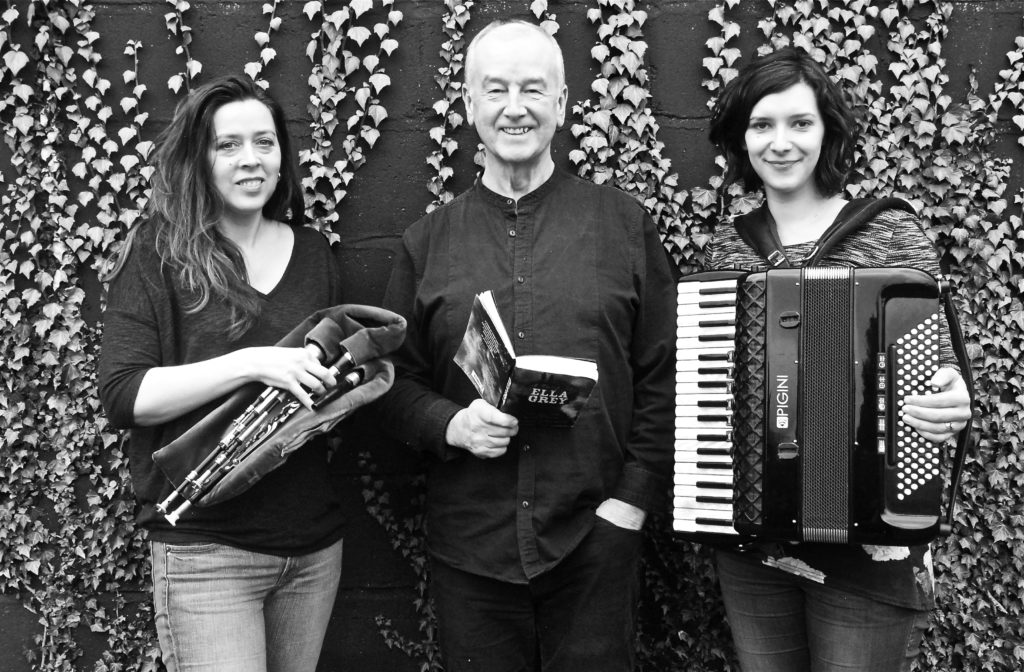 'Tales & Tunes' : Kathryn Tickell & David Almond, with Amy Thatcher.
These artists' work grows from the landscape, language, history and strange beauty of the north. With the drive of David's storytelling and Kathryn's love of the traditions of her native Northumbria, the poetic power of language and music combine.
On stage Kathryn and David are joined by accordionist and clog dancer Amy Thatcher to bring you a memorable evening of stories, songs and, of course, irrepressible music.
'I can't remember feeling so exhilarated by such a match of music and landscape.' Richard Morrison, The Times
Kathryn Tickell is the foremost exponent of the Northumbrian pipes, a composer, educator, performer and successful recording artist. Over a career spanning 25 years she has released 15 of her own albums to date and has also recorded and performed with Sting, The Chieftains, Penguin Café Orchestra, Jon Lord, Evelyn Glennie, Royal Liverpool Philharmonic, London Sinfonietta and many others. In 2015 she was awarded the OBE for services to folk music.
David Almond is the author of Skellig, My Name is Mina, The Savage, The Tightrope Walkers, A Song for Ella Grey and many other novels, stories, picture books, opera librettos and plays. His work is translated into 40 languages, and is widely adapted for stage and screen. His major awards include The Carnegie Medal, two Whitbread Awards, The Eleanor Farjeon Award, The Michael L Printz Award (USA), Le Prix Sorcieres (France) and The Guardian Children's Fiction Prize. In 2010 he won the Hans Christian Andersen Award, the world's most prestigious prize for children' authors. He is Professor of Creative Writing at Bath Spa University and lives in Northumberland.
'A writer of visionary, Blakean intensity.' : The Times.
'A Tyneside Dylan Thomas, and it is impossible not to be swept up in the power of his storytelling.': Daily Telegraph
Amy Thatcher is an accordionist and clog dancer based in the north east of England. Amy is a key member of several well known folk acts in the UK including Kathryn Tickell's The Side,The Shee and the electronic folk super-group, The Monster Ceilidh Band. Her musical upbringing owes a lot to Stockport's famous "Fosbrook's Folk Education Trust" with whom she trained from the age of eight on accordion, fiddle, piano and clog dancing.
Bookings
Bookings are closed for this event.
Share on Facebook